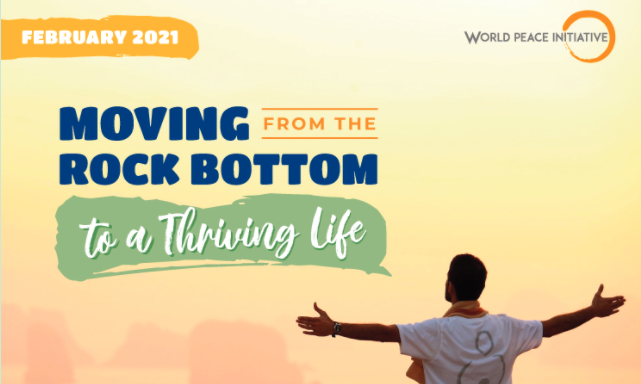 Sometimes you have to sink to the bottom to find new energy, to skyrocket back. Maybe 2020 has left you with a big deal of unpleasant feelings, however, 2021 can be your new chance. Learn how to move from the rock bottom to a thriving life!
MEDITATION TRAINERS
Hi, !
If you want to start a new life when you're at rock bottom, start making improvements that allow you to stabilize your mind and body. Taking care of your body and mind throughout the process of meditation, developing good habits, and using our Better Me Model will make it easier for you to start fresh again. I invite you to start building yourself using our online events. I assure you that they will bring tremendous benefits to your personal and professional life.
Reducing Stress and Burnout Online Meditation Retreats
Do you know that you can join online meditation retreats from the comfort of your home? The World Peace Initiative Foundation (WPI) gives you the opportunity of living mind-blowing online activities for inner happiness, personal growth, and networking with like-minded people all over the world, according to your time zone. Find below our upcoming online events.
---
12-14 MARCH 2021
For Europe
Do you want to let go of stress and prevent burnout? Ready to meditate from the comfort of your home with a Thai monk and international trainers? Register for online meditation retreat taking place from 12-14 March 2021 (Berlin time).
Register now
21-23 MAY 2021
For America
If you are in the American regions, this event is what you need to learn practical ways to reduce stress and burnout in your everyday life. From 21-23 May 2021, you will have the chance to join our event to learn practical tools for self-development.
Register now
26-28 MARCH 2021
Develop Your Inner Strength Online Meditation Retrea
Join this event to gain life wisdom and practical notions to develop good habits that will help you become happy and successful in life. This online retreat will be taking place from 26-28 March 2021.
Register now
MINDFULNESS AND MEDITATION TRAINER OF THE MONTH · January 2021
Aseel Mohamad Nassar
Aseel Nassar from Jordan is an example of a passionate and devoted change maker. Seven years ago she joined the World Peace Initiative Foundation (WPI) as a Mindfulness and Meditation Trainer when she completed her training on Peace Revolution Online Learning Program . Then, she developed her talent using passion as a cornerstone of her work for sustainable world peace. Aseel teaches in many countries including Jordan, Palestine, Lebanon, Iraq, Qatar KSA, UAE, Egypt, Yemen, France, Canada, Hungary, Morocco, Tunisia, Libya, and Algeria. She has positively impacted the lives of many people, who have been able to find their own life mission through self-development, and meditation. In January 2021, Aseel Nassar conducted sessions via zoom for large groups of people, with over 260 people. She is humble and flexible as a trainer. We are truly proud of her tremendous work and invite you to contact Aseel Nassar as your meditation trainer.