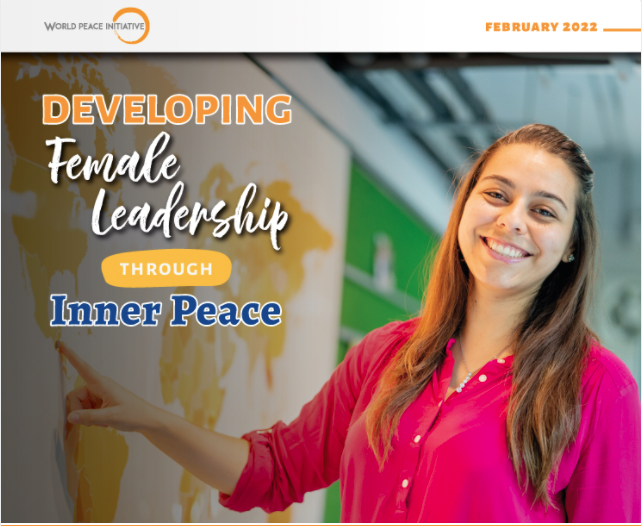 In recent decades, there have been calls for gender equality. But there is still a fundamental lack of women in leadership roles. We, therefore, need a new approach, to foster women's inner skills, which is the surest method of creating a lasting impact in the world.
Learn how to develop female leadership through inner peace.
MEDITATION TRAINERS
PEACE CLUBS
ONLINE MATERIALS
Hi !
When women assume a leadership role, they undergo changes in behavior that positively affect their immediate environment. However, there are many obstacles that hinder the development of female leadership. Most of them are related to external factors. Since good leaders always build their inner capacity to overcome leadership challenges, there is a need to develop inner peace in every woman to help them excel in leadership. We present a new approach based on inner peace using habits development, meditation and mindfulness practice because inner peace helps define the quality of well-grounded authority.
Join us in our online programs to discover useful techniques to develop female leadership skills through inner peace.
African Women Forum 2022
Are you an African woman holding a leadership role in Africa or outside the continent? Do you want to network and share your challenges in leadership with other African women leaders? We are giving you the opportunity to take part in our online celebration of International Women's Day this year. Join the African Women Forum to get practical tools to develop your leadership skills. We accept registration until February, 26th, 2022..
Register here
BetterME Tournament
BetterME Tournament Would you like to become a better version of yourself in 2022? What if we provide you an opportunity to do so? World Peace Initiative Foundation (WPI) is organizing the BetterME Tournament, where you can learn and develop yourself while having a chance to win some prizes including financial merits. If you would like to join the tournament, feel free to contact our regional coordinators here: The Americas - Africa - Middle East - Asia & Pacific - Europe.
---
Master Your Mindset To Unlock Success
Do you want to learn how to create a growth mindset for yourself and unlock success? After the great success of two previous rounds, our 21-Day Online Course is back for the third time. Join this course to master your mind to unlock your success. Completion of this course will make you eligible for the certified Mindfulness and Meditation Trainer course with the World Peace Initiative Foundation (WPI).Register NOW.
AYA HASSAN MOHAMED · Egypt
Mindfulness and Meditation Trainer of the Month · January 2022
Aya Hassan Mohamed from Egypt is a real example of a hard-working and committed person. For more than 3 years now, she has been teaching meditation and mindfulness practice to many people around the world. In January she reached out to over 600 people through a wide range of activities including sessions with peace clubs and online workshops during the Meditation for Health and Wellbeing Summit organized by WPI. Aya also created awareness on meditation and mindfulness as well as promoted our upcoming events through the radio. She is a role model who inspired many people and we really appreciate her effort in peacebuilding. If you are looking for a certified Mindfulness and Meditation Trainer for your in-person or online activities, feel free to contact Aya here.here.
ELVIS KUMAR · Fiji, Japan
Best Performance Crew 2021 Award
Elvis Kumar is a role model and an inspirational person. After completing Peace Revolution Online Learning Prog
rams in 2016, he joined World Peace Initiative Foundation (WPI) as a Mindfulness and Meditation Trainer. He also became one of WPI's Crew showing his commitment and love for peace building. He is very professional and truly passionate with his work, handling all challenges with positivity. Elvis has a humble personality with a great sense of responsibility. He also serves as the Regional Coordinator of the Asia and Pacific region for WPI. In 2021, he was highly productive and achieved great performance as a crew member. He shares that he is grateful to have been part of WPI that has helped him immensely in the past 6 years, guiding him through both personal and professional development. We are proud of his valuable contributions and professionalism.
Find this useful? Take a moment and forward this email to someone in your network who may need it most or share in your social networks!
You can also contact us if your organization or company would like to have online meditation with one of our trainers in your language. Please, don't hesitate to contact us at elvis@wpifoundation.org
WE ARE FOREVER COMMITTED TO YOUR HAPPINESS AND PEACE OF MIND.
Peace In, Peace Out!
Co-founder and CEO
Ping Ping Worakate