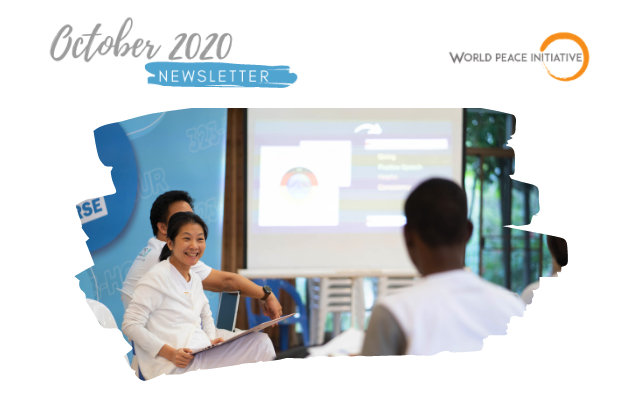 Everyone in the world wants to be successful in life, but not all of us know what success is and how we could achieve it. This month, we are inviting you to have a deep understanding of success whereby we also share with you the number one thing that the most successful people have in common.
Online Event: Online Meditation Retreat for America //3 Days Online Seminar for Africa // Testimonial // Coaching: Meet our Peace Coaches
Hi
Success is not about fame, honor, or money, but the experiences and the value you bring in people's life. Every successful person always meditates, because meditation helps in having more clarity in the mind. It also helps develop success skills mainly humility, patience, empathy, positive mindset, will power and resilience. In addition, meditation gives us the chance to understand what we can do to achieve our goals and thus become successful. I invite you to join us in our various activities to have useful content that will help you become successful in your unique way.
3 Days Online Seminar for Africa
If you are a peace activist from Africa and looking for an opportunity to improve your knowledge and performance in peace building, this free online event is for you. Join us in the 3 Days Online Seminar for Africa from 14-16 October 2020. This is a unique opportunity to deepen your self-knowledge and self-awareness for positive life transformation. Check more details here.
Online Meditation Retreat for America
Want to connect with yourself and relax through meditation from the comfort of your own home? Join our online meditation retreat for America PDT timezone. Learn to deal with stress and burnout practicing meditation and group coaching for 2,5 days with a Thai monk and international trainers. You will need a quiet place and internet connection, we shall take care of the rest. Where? Zoom and messenger. When? November 13-15, PDT. Book here. Join The Selfcare challenge group to get a taste of the retreat..
Tips to meditate or develop further in Meditation
How to become successful using meditation?
Once a participant in our online Self-development program, Ziomara Estrada, from Guatemala is today our Peace Coach of the month. She shares with you some tips to meditate or develop further in meditation as a way of becoming successful.
For Ziomara Estrada, you have to make a list or a vision board of your goals and dreams, including the main topics of wellness, happiness, and peace. You can also put the tools to cultivate them (Don't forget meditation, is the best choice). If you are not yet in meditation, we have a free online program for you and our Peace Coaches are ready to support you in the process of Peace Revolution.
Find this useful?
You can also contact us if your organization or company would like to have online meditation with one of our trainers in your language. Please, don"t hesitate to contact us at elvis@wpifoundation.org
Take a moment and forward this email to someone in your network who may need it most.
WE ARE FOREVER COMMITTED TO YOUR HAPPINESS AND PEACE OF MIND.
Peace In; Peace Out!
May you be well!
Worakate Thangsurbkul
Co-Founder & Managing Director
World Peace Initiative Foundation
---
Copyright © World Peace Initiative, All rights reserved 2020.
Our mailing address is: updates@wpifoundation.org
Want to change how you receive these emails?
You can update your preferences or unsubscribe from this list.
click here to unsubscribe