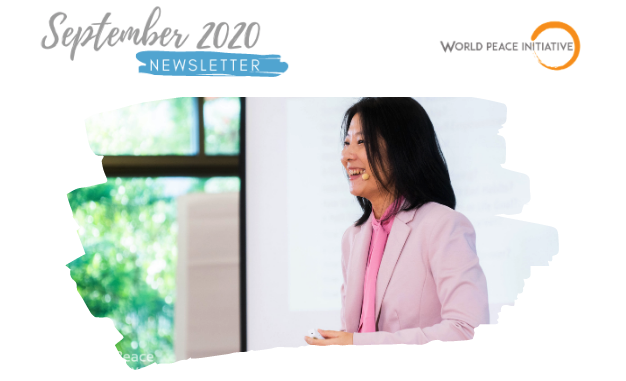 Do you want to be successful in life?
Then, you should know this: Successful people always face realities with courage and accept their duties with maturity. This month we are going to show you how to become a master of your life using meditation. You are going to get more details while reading the following content:
Online Event: 3 Days Online Seminar for Africa // Coaching: Meet our Peace Coaches // Testimonial
Hi
Human beings could not become real masters for their lives, because of the quality of their mind. When the mind is not clear, we can not easily identify our role in our own lives, but when it is clear, we accept that we are in charge of what is going on. To have a clear mind also means that we are more mindful and this is possible through daily meditation whereby we train the mind to become pure and focus on the most important things. Let's take together the decision to improve the quality of our mind. I also invite you to join our event to learn more about the power of your mind. I wish you all the best in life!
3 Days Online Seminar for Africa
Are you a peace activist or a change-maker from Africa? Do you want to learn more about peacebuilding and network with active contributors to sustainable peace in Africa? This event is for you! From 14-16 October 2020, World Peace Initiative Foundation (WPI) is inviting you for a 3-day seminar on the topic of "Gaining Life Transformation through Inner Wisdom". This is a unique opportunity to improve your knowledge and performance in peacebuilding. Check more details here.
Tips to Develop Meditation Further and Become a Master of your Life
How to develop meditation further?
For Alex OTOUBOU, our Peace Coach of the month, if you want to become a better version of yourself, you need to meditate. Meditation should be considered as a mental fitness so you need to be consistent in order to get results.
You need to have an innocent or a baby mind if you want to progress in your meditation journey. And to have a better quality of meditation you need to choose a calm environment that helps us to relax and deepen our meditation practice.
If you are not yet in meditation, we have a free online program for you and our Peace Coaches are ready to support you in the process on https://peacerevolution.net/.
"You can change a bad habit with the right tools, effort and community"
Searching for tools that could help me tame my anger, I landed on the Peace Revolution website in 2016. I started the self-development program, because of the promise of finding inner peace which I thought was quite connected to my struggle to control my anger. Through the 42 days program, I began to discover a way to begin controlling my emotions and knowing how to live peacefully with others as I pursued my goals.
Find this useful?
You can also contact us if your organization or company would like to have online meditation with one of our trainers in your language. Please, don"t hesitate to contact us at [email protected]
Take a moment and forward this email to someone in your network who may need it most.
WE ARE FOREVER COMMITTED TO YOUR HAPPINESS AND PEACE OF MIND.
Peace In; Peace Out!
May you be well!
Worakate Thangsurbkul
Co-Founder & Managing Director
World Peace Initiative Foundation
---
Copyright © World Peace Initiative, All rights reserved 2020.
Our mailing address is: [email protected]
Want to change how you receive these emails?
You can update your preferences or unsubscribe from this list.
click here to unsubscribe