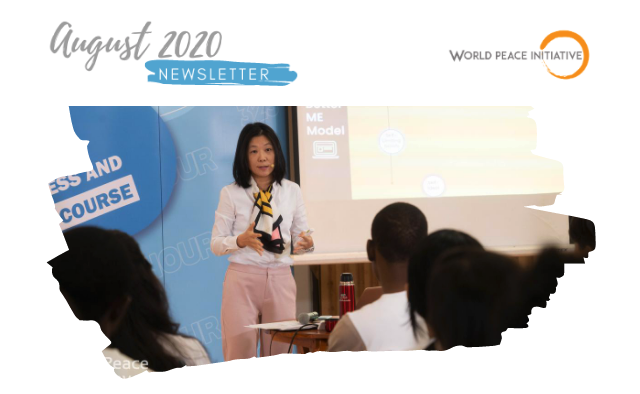 What is the power of the mind and how to use that power to create a new life? In these current days full of challenges, we need to take care of our minds to have a good quality of life. This month, we invite you to explore the power of your mind using useful materials we provide for your happiness. Take the time to check this content for the best in your life. Here is what you can get with us this month :
Online Event: Online Meditation Retreat // Free Online Programs : Stress Management Course in Spanish // Coaching: Meet Our Peace Coaches
Dear
How could your Mind help in creating a new life?
From birth to death, we go through different stages which shape our personality and influence our destiny. Depending on the quality of our Mind, we develop personal judgments and habits that shape our life. At the World Peace Initiative Foundation (WPI), we believe in the power of the mind that can help to create a new life when we succeed in training the mind with meditation, mindfulness, and habit development through a Better ME Model. In this first Newsletter of August, I am happy to invite you on a new journey aiming at creating your new life using the power of the Mind. Wishing you the best!
Online Meditation Retreat to Deal with stress and burnout
How long has stress been affecting you? Do you want to have a stress free life?
Stress is something that happens every day in our life and it really affects our physical and mental stability. Join the online meditation retreat from the comfort of your own home with monk John and 5 certified trainers. September 25-27, 2020 on Zoom and Facebook group. Catch the last day of early bird price - sign up now
Stress Management Course
Curso para el Manejo del Estrés en Español disponible aquí
How to be productive and effective in your work?
Every worker needs two main assets in order to be productive and effective, but they are not easy to get because of challenges that generate stress in our body and reduce the capacity of our mind. If you would like to know more about productivity and effectiveness in work, this 7 days program is for you. Register here.
The secret of life you need to know
Have you ever thought about how things happen in our life?
Here is the secret you may not know. The quality of our mind determines how our life is. That's the reason why the World Peace Initiative Foundation (WPI) has the vision of helping every person in the world to get the necessary tools to build the inside to get the best outside.
We have a free online program for you and our Peace Coaches are ready to support you in the process on https://peacerevolution.net/.
This month, we are celebrating the merit of one of our best Peace Coaches. Lucila Voloschin shares with you "how she finds inner peace in her daily life" :
"By giving myself a huge hug when I wake up, by thanking myself for being alive and having this precious life, by meditating every morning, by practicing yoga every day, by breathing fresh and pure oxygen and feeling sunlight over my face, and by thanking for positive actions, situations, and gifts before going to sleep".
Do you need any particular supports or helps?
Meet more WPI Peace Coaches here .
Find this useful?
You can also contact us if your organization or company would like to have online meditation with one of our trainers in your language. Please, don"t hesitate to contact us at elvis@wpifoundation.org
Take a moment and forward this email to someone in your network who may need it most.
WE ARE FOREVER COMMITTED TO YOUR HAPPINESS AND PEACE OF MIND.
Peace In; Peace Out!
May you be well!
Worakate Thangsurbkul
Co-Founder & Managing Director
World Peace Initiative Foundation
---
Copyright © World Peace Initiative, All rights reserved 2020.
Our mailing address is: updates@wpifoundation.org
Want to change how you receive these emails?
You can update your preferences or unsubscribe from this list.
click here to unsubscribe