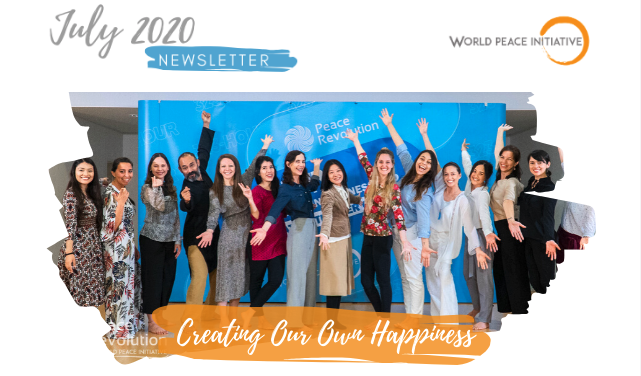 We invite you to create your own happiness using useful content from our monthly Newsletter designed to give you the best opportunities ever. Here is what you can get with us this month:
Online Activities: Stress-Free Summer Festival // A Meditation Retreat in Spanish for Women + Stress Management Course in Spanish // Learning Meditation in Arabic // Private Coaching Podcast: Tips For Job Satisfaction
Dear
True happiness lies within and we are the ones who can create happiness for ourselves and society. Today, we are no more safe outside, so we'd better stay inside our own selves. At the World Peace Initiative Foundation (WPI), our mission is to create happiness using meditation, mindfulness, and habit development through a Better ME Model.
Join us in various online activities to stay calm, focus, and happy!
Stress-Free Summer Festival
World Peace Initiative Foundation (WPI) in collaboration with MasterPeace organized a week-long campaign with a series of activities including art, dance, music, yoga, meditation and mindfulness from 11-17 July 2020. We offer this event as a way to connect the whole world virtually using online activities on Facebook. WPI and MasterPeace have trainers with various expertise who will share their knowledge to help you manage your summer in the best and most effective way. For more information, click here.
Online Meditation Retreat in Spanish for Women: MujerEs Paz
Are you feeling tired, overwhelmed, lacking patience, or inspiration? Lockdowns and social distancing are having us with more than one concern and our daily routine has changed in unexpected and, sometimes, not very welcoming ways. We carefully created this space to make you feel pampered, cared, and energized in body and mind through meditation classes, yoga, private Coaching sessions, and specialized workshops. Join us from 17-19 July to go inside yourself and find the tools and resources that will boost your individual well-being on a daily basis. Register until July 10. More information here.
Arabic Online Course: تعلم التأمل بالعربي
After we had great success with the first group of online courses "Learn meditation in Arabic", we are glad to launch it again for those who are interested to join the second group of this course. The course gives you the possibility to practice meditation on a daily basis and apply mindfulness in our daily activities under the supervision of our meditation and mindfulness trainer. They dedicate their time and effort to follow up with you for one month so that you get the best from this program. You can find more details here.
Testimonial
اكتملت معرفتي بالتأمل من خلال انضمامي لكورس " تعلم التأمل بالعربي" التغيرات التي حدثت لي، اإمتنان لكل ما يُحيط بي من نِعم الله، الصحة ، الأهل ، والطبيعة، التركيز أكثر، وامتلاك إرادة قوية، والتخلص من التوتر والخوف،.إيجاد نمط حياة جديد، الأحساس بمشاعري و افكاري و طاقتي إيجابية ميرفت – الأردن
Stress Management Course - Curso para el Manejo del Estrés en Español disponible aquí Whenever people in the working environment are presented with work demands that challenge their ability to cope, the stress response activates and the body releases stress hormones that trigger a 'fight or flight' mode. During this 7-days program, you will learn how to be in charge of your mind so that you can let go of all unnecessary burdens and tensions. Meditation practice will help you find balance inside. Our tips and questions about stress will help you adjust your habits outside. Register here.
Do you need any particular supports or helps?
Our Peace Coaches are ready to guide you through a personal coaching on https://peacerevolution.net/en/peace-coaches#/
A Peace Coach is someone who has walked the talk and went through some important milestone in meditation and mindfulness practice. Thanks to the experience gained during our self-development program, meditation retreats, and professional background, they are the companion you deserve while walking the path of your personal self-exploration and inner peace. Meet them here.
Tips For Job Satisfaction
It is already the 6th episode of "Tips For Job Satisfaction program". Did you miss some of them?
Our CEO, Ping Ping Worakate shares with you valuable content you can easily apply to improve Job Satisfaction. Here are the recent episodes:
To get further materials for your personal development, subscribe to our channel here: Peace Revolution.
Manuela Puscas, our Peace Coach of the Month of June, about Commitment and Consistency
One of my guiding principles in coaching is commitment and consistency. It very much falls into place with the whole process of meditation itself. Through coaching, I get the chance to serve and be amazed by human nature, at the same time.
Find this useful?
You can also contact us if your organization or company would like to have online meditation with one of our trainers in your language. Please, don"t hesitate to contact us at elvis@wpifoundation.org
Take a moment and forward this email to someone in your network who may need it most.
WE ARE FOREVER COMMITTED TO YOUR HAPPINESS AND PEACE OF MIND.
PIPO!
May you be well!
Worakate Thangsurbkul
Co-Founder & Managing Director
World Peace Initiative Foundation
---
Copyright © World Peace Initiative, All rights reserved 2020.
Our mailing address is: updates@wpifoundation.org
Want to change how you receive these emails?
You can update your preferences or unsubscribe from this list.
click here to unsubscribe