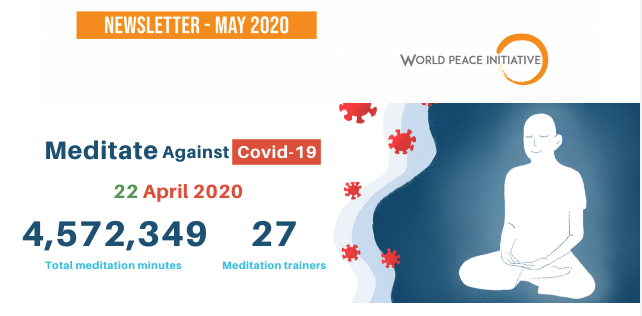 Hi
Yes, that's right, we are giving you the chance to access a variety of resources that you can use to take care of your mind and wellbeing during this Covid-19 situation. What are you dealing with? Are you finding time to take care of your health and wellbeing? Maybe this is the reminder you need to get started. Whatever the case, scroll below and dive into all the content we provide. We recommend adding this email to an email folder you can access all the time whenever you want so that you do not lose all these content.
In meditation, your goal is not to battle with the mind, but to witness the mind. Try it here.
Our 42 days FREE Self Development Program
Provides you with all you need to start or restart your journey to inner peace. Try it here and get the support of a Peace Coach to guide you.
7 Days Meditation Online Course
This online Course is on repeat due to public demand. Try it here for yourself and find out why people are finding it an easier way to learn meditation with a coach and a community online.
Want some Immediate Meditation Resources?
Click here and experience this loving kindness meditation guide here.
Get this Meditation for Stress Reduction here.
Do you need some special 1-1 Coaching on anything you are dealing with? You can talk to a coach here. Within just a click of a link you can connect to one of our coaches and get guidance on anything you are dealing.
Peace Coach: Israel Cabrera's views on Why he Meditates:
"I take care of my peace energy as a flower in my inner garden, I always take the time to water this flower, to cut all the negativity growing around it, to keep it clean and bright, caring the soil and the soul with yoga, singing my mantra which always makes me look towards the light and growing from the center so I can finally share the juice of this inner peace with all living beings." Israel, Mexico
Meditation Trainer: Carmina Morales
Being my birth month, sharing meditation was my best gift to the world. As I gave, listened and held space for others, I was making a meaningful contribution to the world as well.
Find true happiness through meditation here today.
P.s Find this useful? Please take a moment and Forward this email to someone in your network who may need it most!
We are Forever committed to your Happiness and Peace of Mind,
PIPO!
May you be well!
Worakate Thangsurbkul
Co-Founder & Managing Director
World Peace Initiative Foundation
---
Copyright © World Peace Initiative, All rights reserved 2018.
Our mailing address is: updates@wpifoundation.org
Want to change how you receive these emails?
You can update your preferences or unsubscribe from this list.
click here to unsubscribe